www.HearingDirectory.ca
Hearing aid financial assistance
Do you need hearing aids but aren't sure if you have any insurance coverage? Learn more about hearing aid insurance coverage and financing options in Canada, which largely depends on which province you live in.
Hearing aids, depending on the type and your hearing loss diagnosis, can start at a high price point. Fortunately, many government programs, workplaces, and hearing clinics offer subsidies, grants, and benefits to help you get the hearing aid coverage you need.
Does my health insurance cover hearing aids?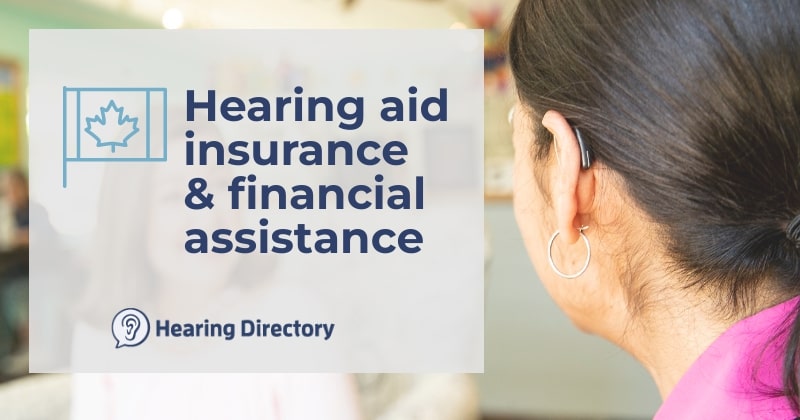 Workplace coverage
Some private health insurers and organizations provide a hearing aid benefit, so your first step should be to check with your benefits manager. If you have private insurance or are part of an organization that provides assistance, contact these resources and see if you have hearing aid coverage/benefits.
Government programs
In Canada, government assistance for hearing aids largely depends on where you live, as each province and territory has different programs. There are also several federal-level programs you may qualify for (see below).
In fact, many provinces and territories require you exhaust all your hearing aid coverage options before applying for their financial assistance programs. These hearing aid coverage options include not just federal assistance but also any workplace benefits you may already receive or any benefits offered to you through private insurance.
Once you have exhausted all other avenues, explore your options, by province or territory, and see if you qualify for financial assistance.
Hearing aid coverage information by province/territory:
Federal Hearing Aid Financial Assistance
If you qualify for hearing aid coverage or financial assistance on the federal level, your benefits apply regardless of where you live in the country.
Veterans Affairs Canada (VAC)
The Veterans Affairs Canada (VAC) Treatment Benefits program provides coverage for a variety of services and benefits to veterans, including hearing aids and accessories, telephone amplifiers, hearing aid fitting fees, and the cost for hearing appointments.
If you are a veteran who already receives the disability benefit because of illness or injury during your service, you automatically have access to the Treatment Benefits program.
You also have automatic access to the Treatment Benefits program if you are part of the Veterans Independence Program, the War Veterans Allowance, or if you receive financial assistance from VAC for long-term care.
You can access the details of your hearing aid coverage through your secure Medavie Blue Cross account.
Note: You can also use the Medavie Blue Cross link above for hearing aid coverage information if you are currently serving in the Canadian Armed Forces (CAF) or if you are a member of the Royal Canadian Mounted Police (RCMP).
Workers' compensation for hearing loss
Some occupational environments, like construction sites and busy restaurants, present a considerable risk for noise-induced hearing loss, so certain industries are required by law to register with a workers' compensation board like the Workplace Safety and Insurance Board (WSIB) in Ontario.
If you think your hearing loss may be work-related, get a hearing assessment and check if your employer has registered with a workers' compensation board.
If your hearing assessment confirms you have a hearing loss that can be treated with hearing aids, your claim with your board is approved, and you are prescribed hearing aids from a certified hearing professional, you are entitled to a hearing aid.
Avoid buying your hearing aids while your claim is pending. Once you are approved, your board may also cover the ongoing costs associated with your hearing aids, like hearing aid batteries and hearing aid maintenance.
For details on workplace hearing aid coverage, please contact your hearing healthcare provider.
Interim Federal Health Program
The Interim Federal Health Program (IFHP) is just as its name suggests: a temporary program offering limited healthcare coverage.
You may qualify for IFHP if you are a:
Resettled refugee or refugee claimant,
Victim of human trafficking with a temporary resident permit,
Protected person or
Detainee
As of March 2020, individuals in the IFHP can receive supplemental coverage for
Bone conduction hearing aids up to $585.40 per ear
Entry-level digital hearing aids up to $1,500 per ear
Cochlear implants up to $30,000 (limited to resettled refugees 12 months to 18 years)
Bone anchored hearing aids (BAHA) up to $5,000 per ear (limited to resettled refugees)
Supplemental coverage is also available for dispensing fees, earmolds and assistive listening devices. Check the IFHP Benefit Grid to learn more.
Indigenous Services Canada's Non-Insured Health Benefits program
Under the Non-Insured Health Benefits (NIHB) program, indigenous persons can receive coverage for hearing aids, hearing aid batteries, assistive listening devices and more.
Your hearing aids can be covered to a maximum of $575 per hearing aid and $125 for specific repairs. Other hearing aid related services are also covered by the program. For more information, see the price files.
You must be a resident of Canada and either:
A First Nations person registered under the Indian Act
An Inuk recognized by an Inuit land claim organization or
A child less than two years old whose parent is a registered First Nations person or recognized Inuk
A hearing healthcare professional must first diagnose your degree of hearing loss.
I need a hearing aid but can't afford it
The Campaign for Better Hearing is an internationally recognized movement that provides brand new hearing aids to those who need but can't afford them.
Hearing professionals at participating clinics nominate a patient with a diagnosed hearing loss to receive these hearing aids through the campaign's Give-back program. This is based on the patient's need and/or the patient's good standing in the community.
Ask your hearing clinic if they are sponsors for the Campaign for Better Hearing. Many of the hearing clinics on on our site mention their support for the campaign in their bio.
Hearing aid financing
Some hearing clinics offer hearing aid financing to help you manage the cost of your hearing aids. Hearing aid financing divides the cost of the hearing aid over a period of time so you won't have to pay for the hearing aid all at once.
There may be interest added to this payment option and some clinics may require a credit cheque for you to qualify. Consult your hearing clinic for more details.
Find a hearing care provider near you
Once you've identified how to cover the cost of your hearing aids, visit our directory to find a hearing clinic near you and get a hearing test from a certified professional.