www.HearingDirectory.ca
Tinnitus symptoms and causes
Tinnitus is the name for a persistent ringing in the ears. While sometimes no cause can be found, a variety of health conditions are known to trigger tinnitus.
Tinnitus is defined as a constant or intermittent ringing sound heard in the ears or head that does not have an outside source. An estimated 37% of adult Canadians reported experiencing tinnitus in the past year, according to Statistics Canada. About 7% of those said the constant buzzing in their ears was bothersome enough to affect their sleep, concentration and mood.
Symptoms of tinnitus
Tinnitus may be described as hissing, buzzing, ringing, roaring or rushing. Some people report sounds like insects droning or engines running. It can be constant, or intermittent. Many people notice it more at night, or when there are no other sounds around to distract them.
The severity of tinnitus varies in people and may range from a mild annoyance for one person but interfere with work or daily activities for another person. Tinnitus has been associated with a variety of ailments, and while there is no known cure, there are a variety of management options.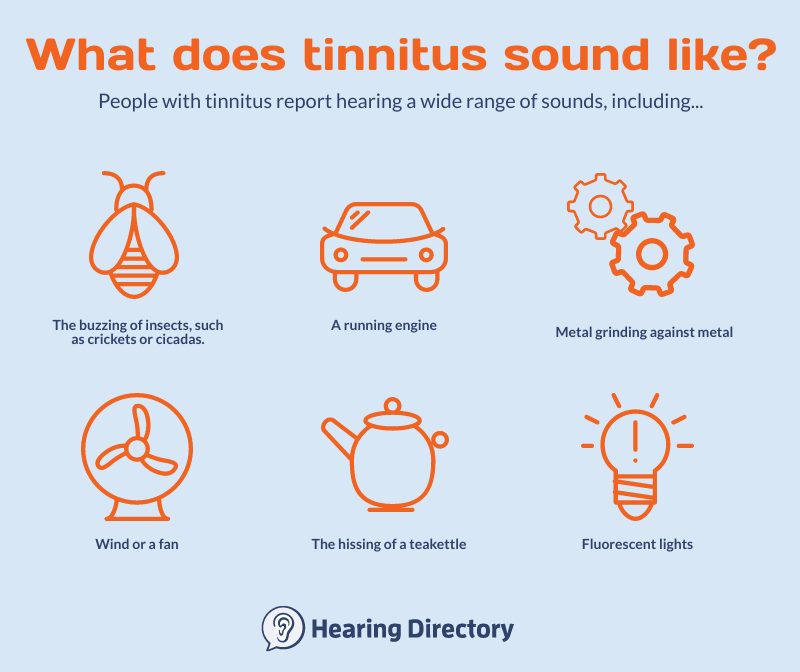 Causes of tinnitus
It's important to know the sound is NOT imagined and is NOT a disease – it is a symptom of a malfunction somewhere in the hearing system. The exact physiological mechanism of tinnitus is not known, but research has shown there are several possible causes or triggers:
Noise trauma – repeated exposure to noise in an occupational or recreational setting is a common cause of tinnitus. Being exposed to loud sounds (chain saws, firearms, or heavy equipment) over an extended period of time can have permanent impact. Even a single loud event can trigger the sound. Loud music, either in a concert setting or through personal headphones, can also be a trigger. The onset of tinnitus may be sudden or gradual, and tinnitus is often the first indicator of overexposure to noise.
Hearing loss – Hearing loss and tinnitus often go hand in hand. However, not all tinnitus patients have hearing loss, and vice versa. Tinnitus can occur with any type and degree of hearing loss, and changes in tinnitus and hearing loss tend to occur independently.
Meniere's disease – This inner ear disorder causes dizziness, tinnitus and hearing loss.
Health problems – Tinnitus is linked to a number of conditions, including high blood pressure and heart disease, thyroid disease, diabetes, depression and fibromyalgia.
Head or neck injury – People who have experienced concussions, skull fracture, or whiplash are at increased risk of tinnitus. So too are people who have TMJ (temporomandibular joint) disorder.
Medications – Some medications are ototoxic, which means they can cause damage to the hearing organ itself. Other medications produce tinnitus as a side effect, which may subside after a person stops taking the drug. More than 500 prescription, over-the-counter drugs and supplements list tinnitus as a possible side effect, including:

Antibiotics
Pain killers
Cancer drugs
Diuretics – like Furosemide
Hearing loss and tinnitus
Tinnitus triggers
Many people with tinnitus report certain behaviours or dietary habits can trigger, or worsen, their tinnitus. These include caffeine, alcohol, high doses of aspirin, excessive salt in the diet, noise exposure, smoking and stress or anxiety.
Treatments for tinnitus
Although there is no "cure" for tinnitus, there are several at-home remedies and other tinnitus treatments that have been developed to help people dealing with ringing in the ears, including hearing aids. Management of tinnitus focuses on quality of life.
When should you see a specialist for your tinnitus?
It's always a good idea to get your tinnitus evaluated by a hearing care professional. In some cases, you may be referred to emergency care, or an otolaryngologist (an ear, nose, throat specialist). Reasons for this include:
Pulsatile tinnitus (tinnitus that you hear in pulses, similar to a heartbeat)
Unilateral tinnitus (one-sided)
Ear pain and drainage
Dizziness/balance issues
Physical trauma
Facial palsy (paralysis)
Sudden hearing loss
If you experience any of these symptoms in conjunction with tinnitus you should seek immediate medical attention.
How to get help
Tinnitus is a widespread and variable ailment that impacts people differently. It is normal to feel upset and anxious when you experience tinnitus, as it can be an unsettling and disruptive experience. Don't be hesitant to seek out behavioural help to minimize the emotional impact tinnitus has on your life. Visit a hearing professional near you to complete a hearing test and discuss your options for treatment.