www.HearingDirectory.ca
Hearing aid comparisons and reviews
Comparing hearing aids with the help of your hearing care professional can help you decide which style and features will work best for your hearing loss, lifestyle and budget. Learn ways to help you decide which hearing aids are the right fit for you and how to get started.
Meeting with a hearing care professional to discuss your preferences, lifestyle and budget will determine what the best hearing aids are for you. Many agree that comprehensive hearing care is the most important factor in achieving good results with hearing aids.
Comparing hearing aids
Deciding between the many options and levels of hearing aid technology can be difficult to do on your own. Fortunately, the support of a hearing care professional can help you decide which hearing aids are best for you. Most hearing care clinics offer a trial period allowing you to try out your hearing aids to help you decide if they are right for you. Here are some things to keep in mind when trying and comparing different hearing aids for the first time:
Listen in different environments and program settings
Most hearing aids have programs for different listening environments. Your hearing care professional will train you on how to change between these programs. For listening in a quiet setting, you can practice listening to the office assistant in the waiting area of the clinic or try them out in your local library or a quiet room in your home. Most people are surprised to hear background noise such as a fan or the radio playing. For listening in a noisy setting, you will need to find a noisier place. The hearing care professional may have sound samples to simulate a noisy situation, like a restaurant or a party or you can try them out yourself at your next lively event. This will also be a great opportunity to try noise reduction and directional technology features that can help hearing aid wearers in complex listening environments, like non-speech noise, distractions or multiple people talking at once.
Listen to the sound of your own voice
Your own voice will typically sound louder than you expected with your new hearing aids. There is always a personal adjustment period for new hearing aid wearers to grow accustomed to. The more you wear your new hearing aids, the more accustomed you will become. You will soon become more comfortable with the sound of your voice and those speaking around you that you will prefer to wear your hearing aids!
Have a conversation on the phone
If you frequently use a mobile phone, try using the hearing aids with your phone during your in-clinic trial. Your hearing care professional will show you how you will need to position the phone on your ear to properly hear the sound through the hearing aid. They may also stage a phone call using the landline phone in the clinic to train you on how to do so at home. Ask your hearing care professional about options for phone connectivity that may exist with your hearing aid model.
Practice changing the battery
There are four common battery sizes for hearing aids and all are relatively small. Each pair of hearing aids may have a different design to the battery door. Learning how to change the battery on your hearing aids will help you become comfortable with your hearing aid size and style. This will make it easier to change the battery and wear them consistently each day. If battery life is a concern, there are models that use rechargeable batteries so be sure to ask your hearing professional what type of battery your hearing aid model uses and determine which battery mode you prefer.
Try compatible accessories
Hearing aids are a big investment in your quality of life. There are a select number of tools to help you maintain your hearing aids and reduce the number of repairs needed overtime. A humidex drying system to remove moisture overnight and a set of filters to protect the microphone from excess earwax are commonly preferred ones. Today's hearing aids are also often capable of wirelessly connecting to other audio devices, like your television, mobile phone and music player. Find out if there are compatible accessories you may want to purchase to enhance your listening experience and keep your hearing aids operating well for years to come.
Cost of hearing aids

The total price of hearing aids not only may include a manufacturer's warranty, but also future servicing by your hearing aid provider. Ensure you are comfortable with the service you are receiving in relation to the price. The knowledge and expertise of an educated and highly-trained professional who will advise you appropriately on your hearing needs is what counts. They will ensure you are receiving the proper care and benefit from your hearing aids.
Choose your hearing aids not just for the lifestyle you have but for the one you want to have.
It's important to remember that the hearing aid that is right for you is not only dependent on the quality of the hearing aid, but also dependent on the type and degree of your hearing loss. Speak with your local hearing professional to ensure that the hearing aid you are interested in is right for you. Hearing aid manufacturers are continually producing improved hearing technology, so it is best to consult with your hearing professional who is familiar with the latest line of hearing aids and will recommend the best one for you.
Hearing aid reviews
Your friend's well-intentioned recommendation for the hearing aid brand and model they use might not have been a good fit, but the review you received about the customer service they experienced at the clinic was probably spot on. Reviews can be a good indicator of the type of professional service you can expect to receive and better prepare you in finding a hearing professional that is right for you.
Patient satisfaction with hearing aids is related to the quality of the hearing healthcare experience. According to Hearing Industries Association, finding a hearing professional you trust and one who will listen to your needs was ranked at the top of their list of recommendations of what to consider when looking for a hearing aid. Look for a professional in your area who will listen carefully to your needs, preferences and level of comfort so they can help you find the best hearing solution for you.
How can you learn more about finding the right hearing care provider and hearing aid for you? Talk to your friends, use word-of-mouth recommendations, read online reviews and talk to a local hearing professional by booking a hearing consultation to get started.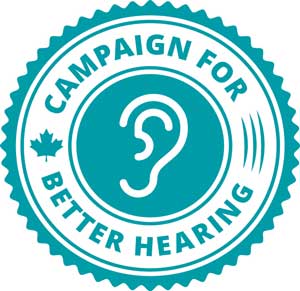 The National Campaign for Better Hearing is a great referral program with the goal of helping all Canadians aged 60 and older get their hearing tested. This is the first step to good hearing health and healthy living and is a great resource to help you on your hearing care journey. Testing your ears at 60 doesn't stop at you. Encourage your friends to test their ears so they too can benefit via a refer-a-friend program like The Campaign for Better Hearing.
Not only do campaigns like The Campaign for Better Hearing inform and educate people about the advantages of hearing healthcare and the dangers of untreated hearing loss, but they also provide hearing aids to those who otherwise could not afford them via a give-back program.
Testing your ears at 60 starts with you...pass it on.
There are many programs and resources to assist you in finding the right hearing professional to best suit your hearing needs. Be sure to visit our online directory to learn more about what is offered in your area.
You will gain greater satisfaction the more your hearing professional understands your needs. A licensed hearing professional who can truly understand your needs and is best qualified to offer you treatment is the person that has taken the time to know you.
Hearing Directory contains consumer reviews that are submitted by real patients online. All reviews are moderated to assure quality and validity. If you have recently visited a clinic that's listed on Hearing Directory, let them know how they are doing! Write a detailed review so you can share your experience with other visitors to the site.