www.HearingDirectory.ca
Hearing loss treatment options
If you have hearing loss, treatment can help reconnect you to the sounds you've been missing.
Hearing loss is very common in Canada: According to Statistics Canada, nearly 40 percent of adults have some degree of hearing loss. Yet only about 1 out of 5 people with hearing loss actually seek treatment.
Fortunately, there are a variety of treatment options that can reconnect you to the sounds you've been missing. For most people, this will either be hearing aids or medical devices, such as cochlear implants.
Hearing loss treatment options
The best treatment for you depends on the type and degree of hearing loss you have, any underlying causes that may need addressing, as well as your lifestyle and budget.
Treatment for sensorineural hearing loss
Age-related hearing loss and noise-induced hearing loss
One of the most common types of hearing loss is known as sensorineural hearing loss, which means there is either damage or deterioration of the inner ear (the cochlea) and/or auditory nerve. This usually happens from exposure to noise and/or aging.
Sensorineural hearing loss is permanent and is most often treated with hearing aids, or with cochlear implants for severe to profound cases. Because the inner ear and auditory nerve cannot repair themselves, sensorineural hearing loss cannot be treated by medication or surgery.
Treatment for conductive hearing loss
Conductive hearing loss is usually temporary and occurs when sound is blocked from entering the inner ear. This can be due to earwax buildup, fluid in the middle ear system (such as during an ear infection), a ruptured eardrum (perforated eardrum), or otosclerosis, which is fusion of the middle ear bones. These types of conditions are often corrected with medical treatments, including earwax removal, antibiotics or surgical procedures.
In more rare cases, conductive hearing loss can be caused by abnormalities of the outer or middle ear, such as ear canal stenosis (narrow ear canal) or exostosis (surfer's ear). These types of conditions are often more difficult to treat medically. In the event that medical treatment does not improve hearing loss, treatment options include hearing aids or a bone-anchored hearing device,
Treating hearing loss with hearing aids
Hearing aids are a remarkable option for many people. The purpose of hearing aids is to amplify the sounds that you are missing. They do not restore your hearing, but rather increase the volume of sounds in the ranges that you are not hearing. Hearing aids include custom settings for your different listening environments, which allow you to listen in different scenarios, such as while in a car or at a restaurant. There are many types, colours and styles of hearing aids available for you to choose from. Your hearing health care professional can discuss with you what is best suited to your needs based on your degree of hearing loss and personal preference. Many come with Bluetooth and other sophisticated wireless technology.
Assistive listening devices (ALDs)
Hearing aids provide significant benefits for those suffering from hearing loss, but in some cases, they alone cannot address specific listening situations. Assistive listening devices can be used to help you hear better while watching television, listening to the radio, talking on the phone or attending sermons or lectures. Your hearing care provider is an expert in this area and can provide guidance.
Accessories
There are a number of unique accessories to help you get the most out of your hearing aids, including miniature microphones that can allow listening to someone from a distance easier, wireless capabilities to stream music from your smart phone or car, and the ability to make hands-free calls. A remote control can allow for easy volume and programming control with the push of a button, and is small and compact to carry in your pocket or handbag.The variety of options are endless and make using your hearing aids much easier and more enjoyable.
Untreated hearing loss has a big impact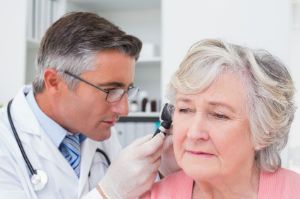 Despite the prevalence of hearing loss nationwide, many people delay seeking treatment out of denial, fear or embarrassment. This not only impacts their ability to socialize and communicate: Hearing loss has been linked to both physical and psychological problems, including anxiety, depression, cognitive decline and an increased risk of falls, according to the Institute of Medicine and National Research Council.
How so? Untreated hearing loss makes it difficult for you to follow conversations and is often very exhausting, triggering relationship problems. It often leads to reduced contact with family, friends and colleagues, which can quickly turn into feelings of isolation and depression. Not being able to hear well also affects your sense of safety and may make you feel less stable, increasing your risk of falls.
Bottom line: Hearing is central to your health and quality of life. If you are not enjoying the activities you used to take pleasure in and are having difficulty following conversations with the people around you, it is imperative that you seek support. Furthermore, prevention strategies can help protect the residual hearing you still have left.
How hearing loss treatment improves your life
When you wear hearing aids or get other treatment, you will find it easier to communicate and participate in social activities, improving your overall quality of life, according to the UK National Institute for Health Research.
Health benefits of hearing aids
Greater self-confidence, stronger self-image and better communication, resulting in overall higher self-esteem
Improve communication, social and emotional issues caused by untreated hearing loss
Engage more in conversations and activities involving other people and therefore have improved relationships with friends, family and co-workers
Increased energy-levels and regard for physical safety
Increased engagement and enjoyment in pastime activities
How to get help
If you think you or a loved one suffers from hearing loss, don't delay another day to seek support. A baseline hearing test, proper treatment options and small changes in habit can result in substantial benefit to your hearing health. Visit a hearing clinic near you and take the first step toward a life of better hearing.