www.HearingDirectory.ca
Dizziness
Last updated on: January 30th, 2023
Feeling dizzy? Dizziness is one of the most common reasons people visit a doctor. Learn why dizziness happens and how to get the help you need.
Did you know that dizziness is a general term used to describe a variety of symptoms and is not a disease or diagnosis? It is common, affecting up to a quarter of people at some point in their lives, according to The Canadian Society of Otolaryngology-Head & Neck Surgery.
It affects people differently and can be a brief annoyance or significantly impact the quality of your life. It is a sign that something isn't quite right, but doesn't necessarily mean there is anything significantly wrong.
Our balance system is fascinating and complex. It is our brains that control our sense of balance. To do this, it takes in information from several parts of the body and brain and puts it all together to keep us and our world on an even keel.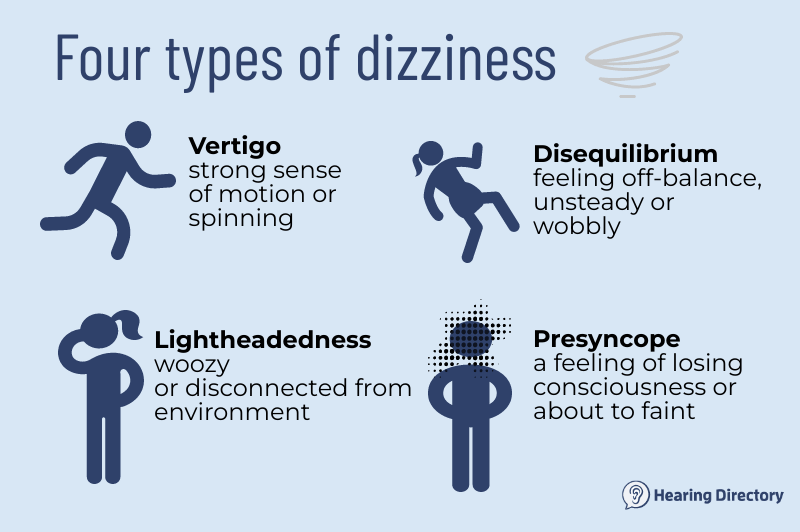 Vestibular system. This is the body's "balance organ," which is located within the inner ear. They detect movement in a three-dimensional way. Simplistically, you can picture them as oars on a boat. If they're both working well, we can navigate a straight course. If one of them stops working or slows down, the boat starts to spin in a circle or possibly we can go forward but on a very uneven path.
Visual system. The eyes provide information about where we are in our surroundings in relation to the speed and direction of our head movements.
Proprioception system. This is the information given by our body regarding where we are in relation to what we can touch and feel. For balance, it is the sensation from our torso, knees, hips, ankles, feet, etc.
Each of these areas have their own complexities. Dizziness can be caused by a problem in one area, a combination of areas, or how the brain is receiving, combining and using the information.
What to tell your healthcare provider
Tracking your symptoms is key
If we can break down how you're feeling into more specific types of dizziness, we have a better idea of what's causing the dizziness and therefore how to treat or manage it. Your healthcare provider can talk to you to help pinpoint if further investigations are needed. The more specific you can be, the better.
Dizziness management can be like a puzzle and sometimes we need to rule out what it isn't while trying to determine what it is. Obviously, when someone is feeling dizzy, they're not usually focused on the details, just that they're not feeling well.
It's ideal, once the dizzy sensation has passed, to write down as much as you can recall about the sensation(s), how long it lasted, what you were doing before it happened, if you were sick, if you were able to move, other symptoms you experienced at the same time, etc.
It's highly recommended to keep a journal if you experience more than one episode, to track how often they happen and what you experience each time.
Types of dizziness
The most common types of dizziness are listed below. Using these terms instead of the more general "dizzy" can help your healthcare provider figure out what's going on. It's possible to have more than one of these at the same time or during different episodes:
Vertigo (spinning). The false sense that you (subjective vertigo) or your environment (objective vertigo) are spinning. It is helpful to know if it feels like you are spinning in the room or the room is spinning around you. If you can recall if the spinning goes to the right or the left, that can be helpful as well.
Unsteadiness. You may feel as if the ground is uneven and not sure of your footing. You may even veer to one side or stumble when you try to walk. It's important to tell your physician if this symptom actually results in you having a fall. If you do have difficulty walking in a straight line and veer to the right or left, it can be helpful if you note which direction you tend to walk.
Lightheadedness. Feeling woozy, weightless or like you could float. Most people experience this if they skip a meal or two, when blood sugar levels are low
Presyncope: The feeling that you might faint or pass out. If you actually lose consciousness, this needs medical attention.
Hearing loss, tinnitus and dizziness
Because balance and hearing are connected in the inner ear, changes in one can affect the other. It's important to let your provider know if the dizziness is accompanied by any hearing changes such as hearing loss or tinnitus (noises in the ears or head).
Meniere's disease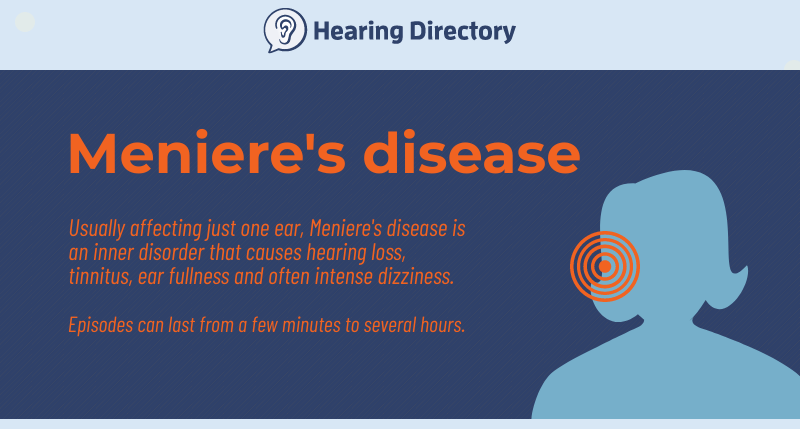 In fact, if you are experiencing hearing loss, tinnitus, ear fullness, and dizziness (typically vertigo) at the same time, it could be Meniere's disease.
Meniere's disease is a specific disease that affects both hearing and balance. It's a rare condition, with an incidence rate average of about 1 in 1000 or approximately 0.1% of the Canadian population1. It is best monitored with the help of an ear, nose and throat (ENT) doctor.
Common causes of dizziness
Some of the more common causes of dizziness are listed below, but the list is not exhaustive.
Benign paroxysmal positional vertigo (BPPV). As the name suggests, this is usually experienced as vertigo, feeling like the room or you are spinning. It typically lasts for less than a minute and is triggered by specific head movements. It's commonly described as vertigo when rising from lying down, or turning over in bed. This can come and go spontaneously. The good news is that this can usually be treated quickly and easily with a repositioning maneuver.
Viral labyrinthitis. This is a viral attack on the organ of hearing and balance in the inner ear. It can trigger hearing loss along with vertigo, nausea and sickness that lasts over several days and typically causes people to seek out medical intervention. Episodes of brief moments of vertigo can reoccur afterwards as the brain has to learn to compensate for the change in function.
Vestibular neuritis. An infection or inflammation that affects the nerve connecting the balance system in your inner ear to your brain, where you will have all the vestibular symptoms with vertigo, nausea and vomiting, but no hearing loss.
Motion sickness. This is a classic example of when the brain gets conflicting input -- your sitting relatively still but your environment is zipping by visually, or in some way very different from what your body is doing. It tends to trigger lightheadedness, nausea and vomiting.
Side effects of medication. Some medications have dizziness as a side effect (as well as hearing loss or tinnitus). For example, if you take medication to reduce your blood pressure, it can take a moment longer for your blood pressure to equalize when you move from sitting to standing. This leaves you feeling lightheaded briefly.
Vascular or cardiovascular issues. All areas of the balance system require healthy blood flow. Interruptions to blood flow or the quality of the blood can impact any one of the areas needed to maintain good balance. Lightheadedness, imbalance, and vertigo can result from problems in this area.
Hip, knee, ankle, and feet issues. Problems with these parts of the body can leave us feeling unsteady. It can be problems with the joints, or just how well we perceive sensation from these areas. As we age, these are increasingly likely to be problematic and affect our mobility.
Breathing or anxiety issues. These can interfere with how much oxygen is being carried in the blood and can cause us to feel lightheaded. Anxiety can interfere with our breathing patterns and how deeply we breathe. Sometimes this can be a vicious circle, as dizziness from a disease like Meniere's can make you feel anxious.
Drinking. Consuming too much alcohol is a well-known way to experience dizziness, usually a type of spinning vertigo, along with nausea and vomiting.
Depending on the suspected cause of your dizziness, your doctor may order further investigations or consultations with related specialists. Audiologists in particular are well-suited to help diagnose, assess and treat some hearing and balance problems that don't need an ENT referral.Treatment and management are more effective when we know what is causing your symptoms.
When to get help
If you experience any dizziness symptoms that don't go away, talk to your physician or an audiologist who is able to perform a vestibular assessment, determine the underlying cause and provide a remedy.
Sources
Canadian Family Physician. Approach to Ménière disease management. 65(7), 463-467.