www.HearingDirectory.ca
Hearing loss in children
Without treatment, hearing loss in kids can cause language and speech delays. Fortunately, numerous treatment options exist.
Are you concerned your child has hearing loss? Or has your child been recently diagnosed with hearing loss? You may feel anxious and a little unsure right now, which is normal.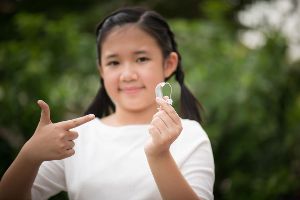 Fortunately, a wealth of resources exist to help you and your child. Knowledge is power, and the more you know, the more you can help your child adapt and adjust.
Hearing loss comes in many variations. It can range from mild to severe, and can be in just one ear or both. Some kids can't hear high-pitched sounds, and some can't hear lower-pitched sounds. In any case, one of the most important things to know is that treating your child's hearing loss will help their language and speech development.
Types of hearing loss in kids
Hearing loss comes in two main forms: sensorineural and conductive. Sensorineural refers to the tiny sensory cells within the inner ear, as well as the auditory nervous system within the brain. Conductive refers to hearing loss from problems with the ear canal, ear drum, or middle ear cavity or bones (the malleus, incus, and stapes). A child can have one or both types of hearing loss; when they have both, it's known as mixed hearing loss.
Conductive hearing loss can be temporary and sometimes corrected with surgery. Sensorineural hearing loss is usually permanent and requires hearing aids or cochlear implants.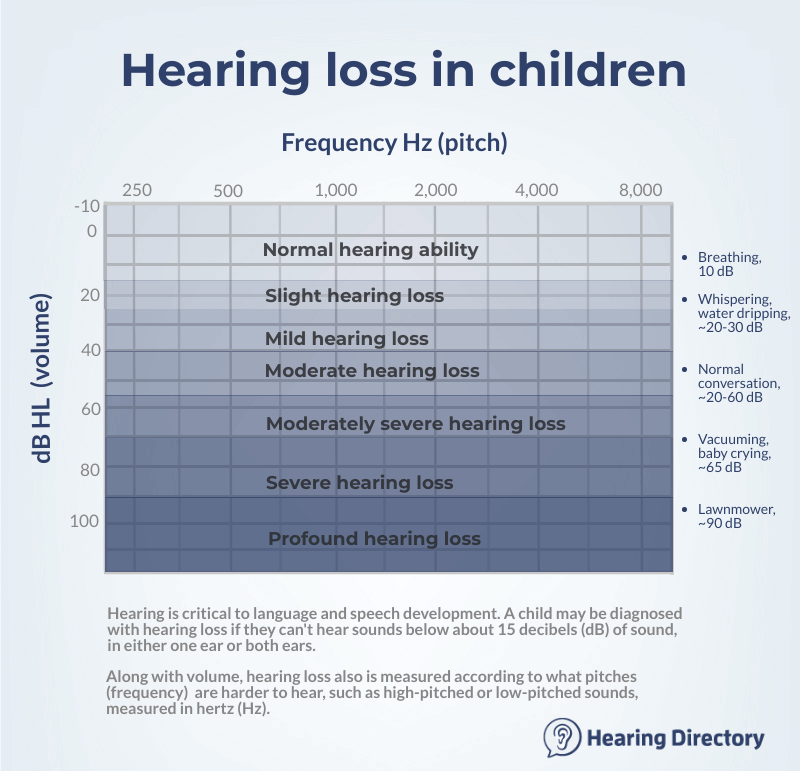 Hearing loss milestones
Hearing loss can be tricky to detect, especially in babies. Most newborns are screened at birth for hearing loss, but some babies may not show signs until later. Keep an eye out for these important hearing milestones and talk to your healthcare provider about testing if you have any concerns.
Babies
Birth to 3 months
At this age, your baby should:
React to loud sounds with a startle reflex
Turn her head to you when you speak
Smile in response to voices (closer to 3 months of age)
Be awoken by very loud sounds
3 to 6 months
Turn or look to a new sound
Respond to changes in tone of voice
Imitate their own voice
Enjoy toys that rattle
Begin to repeat sounds (ooh, ahh, ba-ba)
Get scared by loud noises
6 to 10 months
Respond to own name
Know words for common things (cup, shoe) and sayings (bye-bye)
Babble even when alone
Start to respond to requests like "come here"
10 to 15 months
Point to familiar people or objects when asked to
Imitate simple words and sounds
Enjoy games like peek-a-boo and pat-a-cake
Follow 1-step commands when shown by gesture
15 to 18 months
Follow simple directions ("give me the ball") without visual cue
Use familiar words
Know at least 10 to 20 words
Point to some body parts when asked
Toddlers
At this age, your toddler should:
18 to 24 months
Use 2-to-3-word sentences
Understand simple "yes-no" questions
Understand simple phrases
Enjoy being read to
Point to pictures when asked
24 to 36 months
Understand "not now" and "no more"
Choose things by size (big, little)
Follow 2-step commands like "get your shoes and come here"
Understand action words such as "run" or "jump"
Use 3-to-4-word sentences by age 3
Symptoms of hearing loss in older children
Your child may have hearing loss if she or he:
Talks differently than other children of the same age
Requires you to repeat yourself a lot or seems to struggle understanding you
Turns up device volume or sits very close to the TV to hear
Is struggling at school, or has speech or language delays
Says "huh?" or similar statements throughout the day a lot more than normal
Watches people intently when they're speaking, an indication your child may be lip reading
Causes of childhood hearing loss
Hearing loss can be detectable at birth (congenital) or may develop at a later point in life. A cause can't always be determined. Risk factors and causes include:
Genetics, including syndromes like Down syndrome or Usher syndrome
Premature birth
Needing the neonatal intensive care unit (NICU)
Newborn jaundice that required a blood transfusion
Medication use that can lead to hearing loss (antibiotics and others)
Family history of childhood hearing loss
Birth complications
Repeated ear infections
Other infections such as meningitis or cytomegalovirus
Exposure to very loud sounds or noises, even briefly
Impact of untreated hearing loss on kids
Kids who have hearing loss but do not get adequate hearing treatment are far more likely to lag behind in school, and/or have delayed or inadequate speech and language development. Learn more about the impact of hearing loss on school performance here.
Newborn screening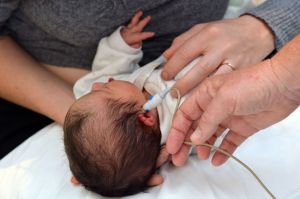 Because many children with hearing loss have no known risk factors, newborns are routinely screened for hearing loss. However, this is inconsistent across provinces, and the pandemic has also meant some babies have not been adequately screened. Make sure your baby gets the screening to ensure hearing loss is caught early.
These programs generally aim to screen newborns by one month of age, confirm diagnosis by three months, and start treatment at or around 6 months. This prompt response to identifying hearing loss aids in the child's speech and language development from a very early age.
Screening tests
The screening program is a two-step procedure, both of which are harmless and non-invasive. The initial screening is completed by measuring what's known as otoacoustic emissions (OAE) from the ear. If your baby does not pass this OAE screener the next step is to have an auditory brainstem response (ABR) test. In contrast to the OAE test, the ABR evaluates the whole auditory system from the outer ear to the brainstem.
If your child is shown to have a hearing loss from this screening, they are then treated for their hearing loss. This early intervention provides a much better outcome for language development.
Treating hearing loss in kids
Hearing aids for children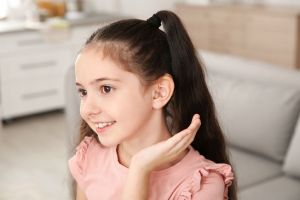 Many children with hearing loss use hearing aids to help them hear. These devices help amplify sounds and are custom-fit to a child's unique pattern of hearing loss. In many ways, pediatric hearing aids are similar to adult hearing aids, but have a few additional features, such as:
A battery door lock, which prevents the battery door from being opened. (Disposable button batteries are potentially fatal if swallowed.)
Hearing aid "huggies." These accessories help hearing aids clip to clothing so the aids are not lost when children are playing.
An extra durable design and fun colours
Things to consider
Children's ears grow and change
Will you need to replace your child's hearing aids every time they have a growth spurt? No, though they will likely need periodic updates or adjustments. To reduce the need for entirely new hearing aids, your child will likely wear a behind-the-ear device that delivers sound into the ear via earmolds, which fit inside the ear. As your child grows, he or she will need new earmolds periodically. But as long as the device itself is in good shape, the main part of the hearing aid won't need frequent replacement.
Care and maintenance
Parents and caregivers will need to be comfortable doing listening checks on the aids before putting them on their kids. You may be given a device known as a listening stethoset and your child's audiologist will teach you how to use it. Most hearing aids will give an audible indicator when the batteries need to be changed, but a child may not be able to hear it or remember to tell you. In addition, pediatric hearing aids have indicator lights on the back of the BTE devices that will provide a signal that the battery is low, or that the hearing aid is working. Some hearing aids are rechargeable and can be docked overnight for recharging.
Paying for hearing aids
For the most part, hearing aids for kids are subsidized by Canada's health system. The Canadian Hard of Hearing Association provides province-by-province guidance, and you should also check with your child's hearing specialist, who will have up-to-date information on what's covered and what's not.
Cochlear implants and bone-anchored hearing systems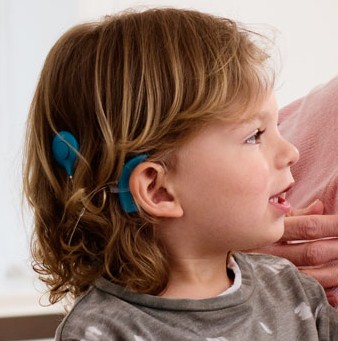 Some children will not benefit enough from hearing aids, and need cochlear implants or bone-anchored hearing systems instead. Both of these are surgically implanted devices that can be life-changing for children with severe to profound hearing loss. Read more about cochlear implants and bone-anchored hearing solutions here.
School accommodations and accessibility
Is your school required to help accommodate your child in the classroom? This varies widely by province, as well as by school boards. Some school boards may have educational audiologists on staff, and some may not. The more populated provinces tend to have more services. In Ontario, for example, the Accessibility for Ontarians with Disabilities Act requires certain accessibility programs that help children stay in regular classrooms.
Your child's teacher and hearing care provider are important resources to help you navigate your child's rights at school. The VOICE organization also has information on how to help your child at school.
Assistive listening devices
For complicated listening situations—such as a classroom—assistive listening devices (ALDs) can be a huge help, since hearing aids may not be enough when there is a lot of background noise drowning out the teacher's voice.
For many children, a classroom or personal FM/DM system may be recommended. These system use a transmitter in the classroom that can be worn by the teacher combined with a receiver that is attached to the child's hearing aid. There are some hearing aids that have a built-in FM receiver, which decreases the size of the device significantly. This can make it more cosmetically appealing for kids.
With the rapidly improving Bluetooth technology in hearing aids, many hearing aids are directly compatible with smartphones, allowing direct streaming of conversations and music to the hearing aids. Also, watching TV is easier with a TV streamer that plugs into the TV and streams wirelessly to the hearing aids. This allows the wearer to adjust their preferred listening volume and allows other watchers to adjust the volume of the TV itself.
How to get help
It is imperative that hearing loss be identified early in a child's life so that language development is not delayed. When you have concerns about your child's hearing and language development, the first step is to make an appointment with your child's doctor, who can recommend a hearing provider near you. They can recommend next steps, whether that be a thorough evaluation with an audiologist or a referral to an ear, nose and throat (ENT) doctor. You may also be referred to a speech-language pathologist (SLP). Regardless, today's hearing aids and other devices make a world of difference for helping your child hear better.