www.HearingDirectory.ca
Hearing loss causes and symptoms
Learn about the three types of hearing loss, symptoms and common causes so you can make informed decisions about your hearing health.
Hearing loss affects people of all ages and is more common than you might think. According to Statistics Canada, hearing loss is the third most common health problem in Canada. Untreated hearing loss can affect your ability to understand speech and can negatively impact your social and emotional well-being. Those who experience hearing loss often report a decrease in quality of life.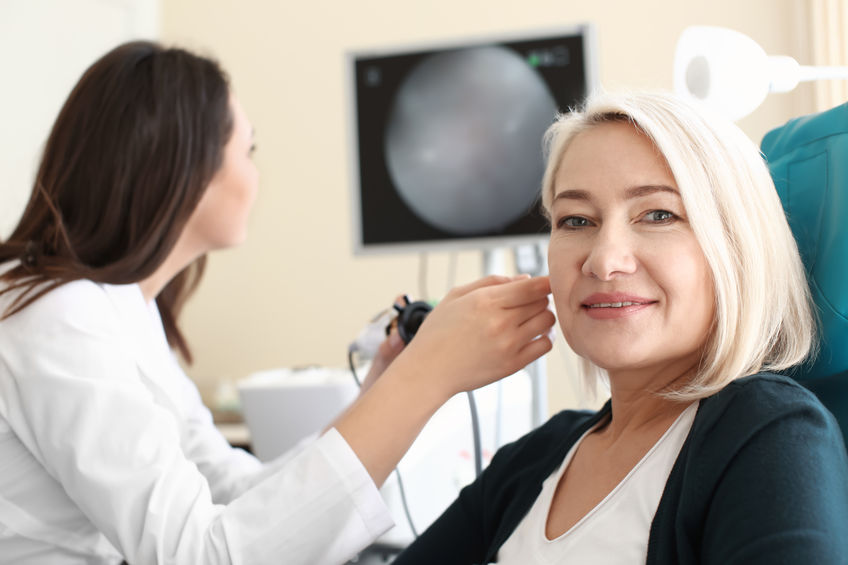 The good news? Hearing loss is well-understood, and it is important to know you are not alone and have ample resources available. By seeking information here, you've taken a first step in getting the information and help you need.
If you suspect you have a hearing loss, you've come to the right place! Learn the common causes, symptoms and types of hearing loss so you know when to seek help for you and your loved ones.
What causes hearing loss?
There are many causes of hearing loss. Some causes are beyond your control, and other causes may be preventable. Hearing loss can be inherited, and external factors like noise exposure can exacerbate hearing loss. Causes include:
Age-related hearing loss in adults (presbycusis)
Loud noise exposure, including short-term exposure to very loud sounds, such as blasts
Ear infections, trauma or ear disease, such as acoustic neuroma or otosclerosis
Damage to the inner ear or tympanic membrane (eardrum) from contact with a foreign object (cotton swabs, bobby pins, etc.)
Damage to the auditory nerve
Illnesses, including Meniere's disease
Certain medications (ototoxic drugs)
Hearing loss symptoms
The signs and symptoms of sensorineural hearing loss can present at any time and in many ways. Symptoms are generally similar regardless of the cause. It can affect one ear (known as unilateral hearing loss) or both ears. For most people with hearing loss, the onset is gradual and occurs later in life. Hearing loss in one ear usually starts earlier in life and may come on suddenly.
Here are some symptoms that indicate you may have hearing loss:
You have difficulty hearing people in noisy environments such as restaurants, shopping centres, sporting events, or movie theatres
You feel people seem to "mumble" quite frequently
You find it difficult to understand people over the phone
Family, friends or colleagues need to repeat themselves when speaking with you
You have trouble hearing people when you can't see their faces or are in other rooms
You have difficulty following conversations
You have ringing, buzzing or hissing sounds in your ears, known as tinnitus
You are tired after attending social events or work events
You avoid social situations due to difficult communication
You have misunderstood messages or mixed up verbal instructions
Hearing loss types
Sensorineural hearing loss
The first and most common type of hearing loss is sensorineural hearing loss and it occurs when tiny hair cells within the inner ear (the cochlea) are damaged. These hair cells detect sound waves, which is transmitted to the brain via the auditory nerves. The most frequent way the hair cells are damaged is through noise and aging. Most often, people struggle to hear higher-pitched sounds, such as birds singing or children's voices. High-frequency hearing loss may be difficult to notice because it worsens gradually over the years. It's not unusual for people to report that they can hear, but not understand.
Conductive hearing loss
The second most common type of hearing loss is conductive hearing loss and is a result from a problem in the outer or middle ear that prevents sound waves from entering the ear canal and inner ear properly. Often this is caused by an obstruction, such as earwax.
Mixed hearing loss
The third most common type of hearing loss is mixed hearing loss. This type of hearing loss involves both sensorineural and conductive hearing loss components. Because mixed hearing loss can be more complicated to diagnose and treat, be sure to follow-up with your physician, otolaryngologist (ENT) or hearing care professional. Treatment options for mixed hearing loss will depend on whether the loss is more sensorineural or conductive in nature.
In depth: Read more about types of hearing loss.
Degrees of hearing loss
Hearing care professionals use the terms normal, mild, moderate, severe and profound to characterize the degree of hearing loss. Hearing loss is measured in decibels (dB), and these terms refer to the lowest threshold a person can hear.
People with normal hearing (hearing threshold levels of approximately 0-20 dB) can hear most speech sounds in quiet and comfortable listening situations. They can also hear leaves rustling and birds chirping.
People with mild hearing loss (between 21 and 40 dB) may hear reasonably well in one-on-one conversation but may miss words and speech sounds when a person is talking softly or when there is background noise.
People with moderate hearing loss (between 41 and 70 dB) will miss many speech sounds. They may mishear parts of conversations or ask others to repeat themselves.
People with severe hearing loss (between 71 and 90 dB) will miss the majority of conversational speech and using standard telephones will be very difficult.
People with profound hearing loss (91 dB or more) cannot hear speech sounds even when they are very loud.
Why does it matter?
Untreated hearing loss makes it difficult to follow conversations and often leads to reduced contact with family, friends and colleagues, which can further turn into feelings of isolation and depression. Hearing is central to your health and quality of life. According to Hear-it AISBL, people with untreated hearing loss often experience a decreased quality of life. Meanwhile, hearing aids have health benefits, like delaying the onset of dementia.
Taking care of your hearing is one of the important keys to maintaining an active intellectual and social life.
Hearing loss treatments
For most people, hearing aids will be the recommended treatment. However, for people with more serious hearing loss, cochlear implants and bone-anchored hearing systems may work better. Read more about hearing loss treatment and hearing aids.
Can you prevent hearing loss?
In many cases, yes! Wearing hearing protection when you're in a loud environment will help you preserve your hearing. Hearing loss prevention also includes healthy habits like avoiding cigarette smoke and taking medication for conditions, especially those that affect blood flow, such as high blood pressure and diabetes. Diminished blood flow to the ears can lead to sensorineural hearing loss and is more common among people with uncontrolled hypertension and diabetes.
What's noise-induced hearing loss?
Noise-induced hearing loss (NIHL) is caused by damage to the hair cells that are found in your inner ear. Hair cells are tiny sensory cells that convert the sounds we hear (sound energy) into electrical signals that travel to the brain. Once they are damaged, these hair cells cannot grow back, causing permanent hearing loss.
Harmful sounds that can damage your hearing include, but are not limited to:
A sudden intense sound such as an explosion
Continuous exposure to loud sounds over an extended period of time, such as sitting too close to a speaker at a concert
Harmful sounds at work, at home and during recreational activities.
If you work in a hazardous noise environment, speak with health and safety personnel about noise exposure risk.
Myths and misconceptions about hearing impairments
People who have no experience with hearing aids tend to have all sorts of misconceptions about them. Here are some of the most common:
Myth: It's unusual to have a hearing loss.
Fact: It is not uncommon. In fact, 10 percent of all people and around 40 percent of people over 50 years old have a hearing loss.

Myth: Hearing loss is for old people.
Fact: Not true. About 65 percent of people with hearing loss are younger than 65.

Myth: Hearing aids are big and ugly.
Fact: Today's hearing aids are stylish, tiny and almost invisible when worn and include many types and styles.

Myth: Hearing aids beep and squeal
Fact: This may have been true many years ago. Today's technologies ensure that these effects have been almost completely eliminated. Modern hearing aids even have Bluetooth.

Myth: My hearing loss only affects my hearing.
Fact: Not true. Having a hearing loss also affects your mental energy, ability to recall conversations and take part in social activities. It also affects your loved ones, family, friends, colleagues and anyone else who wants to communicate with you.
COVID-19 vaccine and hearing loss
A 2022 report from the World Health Organization (WHO) identified a possible link between COVID-19 vaccination and temporary hearing loss.
Hearing loss from the COVID-19 vaccine is rare. Most sufferers experienced hearing loss within a day of receiving the vaccine and quickly recovered.
Learn more: COVID-19 and hearing loss
Tinnitus was a common symptom accompanying the hearing loss, followed by headaches, dizziness and nausea.
For some, steroid treatment was needed to restore their hearing.
Increased risk factors for hearing loss from the vaccine may include allergies, high blood pressure, prior hearing loss or other related auto-immune disorders.
Overall, though there is a link between COVID-19 vaccines and hearing loss, this is still based on limited data.
Regardless of the cause, if you experience sudden hearing loss or a sudden, intense onset of tinnitus, seek urgent medical attention.
How do I get help for hearing loss?
Our online hearing screening is a good first step. If you suspect you may already have hearing loss, be sure to follow-up with a local hearing loss clinic near you to get your hearing tested.