www.HearingDirectory.ca
Noise-induced hearing loss
Noise-induced hearing loss occurs when the sensitive structures in the inner ear are damaged by loud sound. It often causes permanent hearing loss.
One of the most common causes of hearing loss is from excessive noise exposure, known as noise-induced hearing loss (NIHL).
In today's modern and increasingly noisy world, NIHL is on the rise. In fact, this preventable injury is considered a public health priority by the World Health Organization.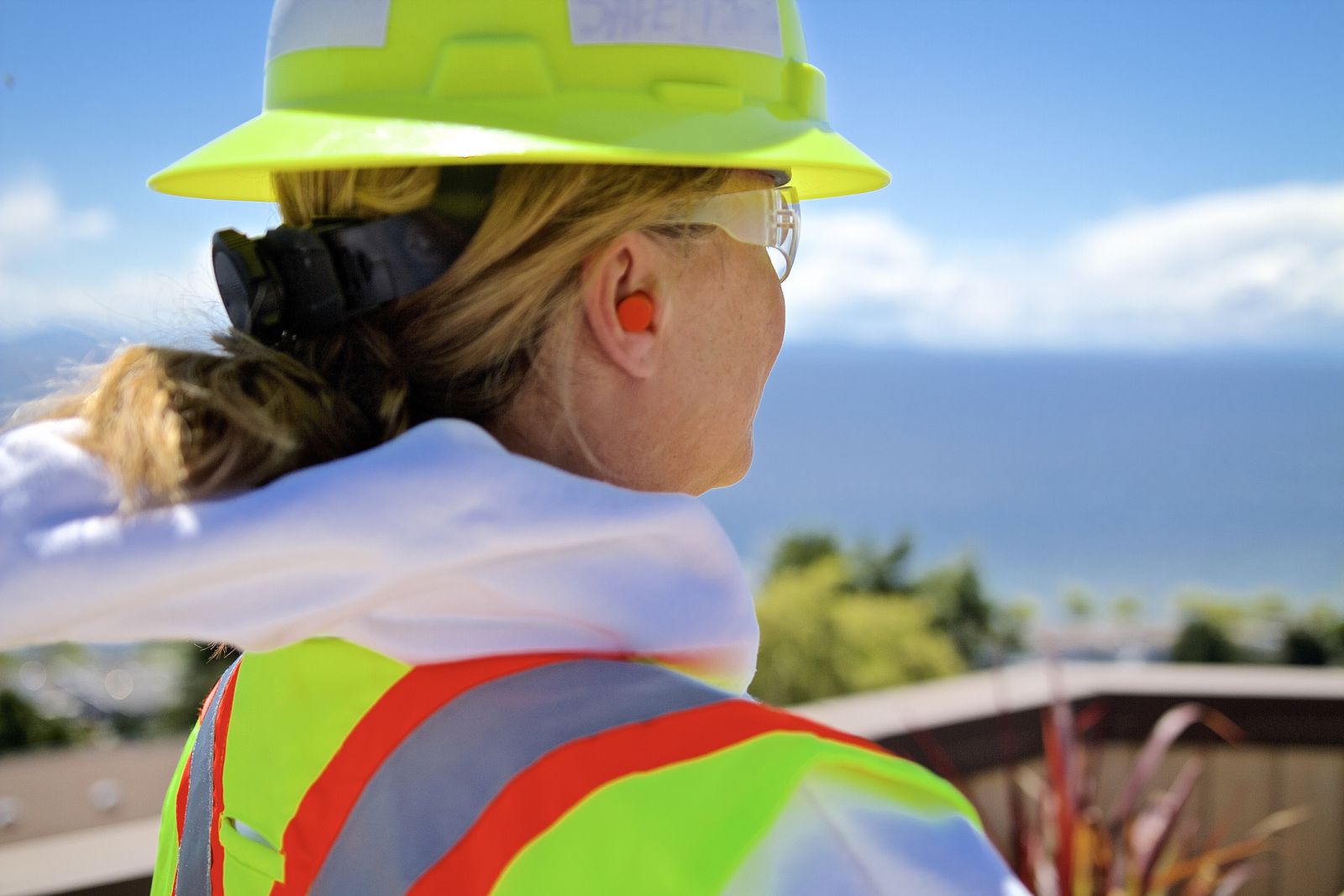 The estimated cost of hearing loss on the Canadian economy is over $10.6 billion each year, according to Heather Ferguson, President of the Hearing Foundation of Canada. However, the true cost of hearing loss goes well beyond financial costs; the cost in terms of quality of life is most significant.
What is noise-induced hearing loss (NIHL)?
Noise-induced hearing loss occurs when microscopic hair cells, responsible for sensing the presence of sound, become damaged because of high levels of noise. These tiny hair cells are located within the inner ear, specifically the cochlea—the specialized hearing organ inside the ear. The hair cells detect sound waves. Louder sounds produce stronger waves, which can damage the cells.
Who's at risk of noise-induced hearing loss?
Anyone is at risk of noise-induced hearing loss (NIHL), but it's most common among people who have jobs with high noise exposure. Jobs in mining, machinery, manufacturing, oil/gas production, building construction and transportation are some of the highest risk. But even jobs like dentistry, music and teaching can take their toll.
Occupational hearing damage can occur suddenly, such as after an extremely loud blast, or after years of working in a chronically noisy environment, like a factory.
The good news? While common, NIHL is preventable. And when damage does occur, it's treatable (but usually not curable).
Damage can occur suddenly or over time
Noise is often described as "unwanted sound," but music can also damage your hearing if it is loud enough and if your are exposed long enough. This is particularly true for people who use earbuds or headphones.
Damaging noise can either be brief but intense (impulse noise), or prolonged but of a lower intensity (continuous noise). The hearing loss can either be temporary or permanent, with more hair cells damaged equating to more severe hearing loss. Some work environments have a combination of both impulse noise and continuous noise.
Impulse noise is a very loud but brief dosage of sound. Unprotected exposure can cause what's known as "acoustic trauma." This results in permanent hearing damage. A single exposure (such as a gunshot or fireworks), or brief repeated exposure (such as a jackhammer) of impulse noise can cause immediate damage to your auditory system.
Continuous noise happens over time from repeated exposure to loud noise, such as from using a hair dryer all day as a hairstylist, or listening to headphones at too high a volume. Always listen to music at the lowest comfortable setting.
Symptoms of noise-induced hearing loss
Many people will experience some but not all of these signs and symptoms of noise-induced hearing loss:
A noticeable change in hearing after exposure to loud noise (may be temporary or permanent).
Ear pain following exposure to loud noise.
Tinnitus—a ringing, whooshing or buzzing sound in one or both ears—may be heard temporarily after loud noise exposure (for example, ears ringing after a concert can be a sign of damage to the inner ear hair cells).
Hearing but not understanding what others are saying, a sense that people seem to be mumbling.
Having more trouble understanding conversations in background noise than you used to (for example, hearing a friend in a busy restaurant)
Loved ones and friends commenting that you are speaking loud or require the TV or radio turned up too loud.
How does NIHL affect my hearing?
In most cases, people with noise-induced hearing loss have the same amount of hearing loss in both ears, and they usually struggle to hear higher-pitched sounds than lower-pitched sounds. So, for example, it's much easier to hear men talking than children talking. When it comes to understanding speech, a person with NIHL typically struggles to hear speech sounds such as "sh", "s", "th" and "f".
Difficulty hearing these sounds are most noticeable at the start and ends of words, for example "shell", "sell" and "fell" may be difficult to distinguish. This makes speech sound more mumbled, and less crisp or clear than it should.
Does NIHL get worse over time?
Yes, the onset of noise-induced hearing loss is often gradual and progressively gets worse over time.
Other harmful effects
In addition to hearing loss, noise exposure is connected to numerous stress-related problems such as sleep disturbances, high blood pressure, heart disease and diabetes.
Diagnosis and treatment of noise-induced hearing loss
If you suspect you have NIHL from your job, talk to a hearing care professional to complete an industrial/occupational hearing test. Often, work sites where staff are exposed to noise will have on-site hearing screenings or will send their staff to get annual hearing tests.
Is there a cure for noise-induced hearing loss?
No, and unfortunately, NIHL is usually permanent. The best treatment is often hearing aids. There is no drug or medication that works for NIHL. Technology has advanced hearing aids far beyond the hearing devices that many people remember. If you have a known hearing loss, be sure to find a hearing care professional in your area and make an appointment to discuss your hearing situation.
In Canada, each province has a worker's insurance board that may provide you coverage for hearing aids. Speak to your hearing care professional for more information.
Noise levels of common sounds
It is generally advised to avoid or limit exposure to any sound above 85 decibels.
Even if you don't work with loud equipment, power tools or use firearms, you may still be at risk of noise-induced hearing loss from frequently using everyday household items, such as a hair dryer, kitchen blender, lawnmower or electric drill. It is generally advised to avoid or limit exposure to any sound above 85 decibels. This also depends on how often and how long a person is exposed, as well as how close they are in proximity to the sound. Here's some general guidance on how loud sound levels are:
Temporary hearing loss from noise
In some cases, noise-induced hearing loss can be temporary, particularly if the hair cells are given time to recover after a loud event or incident. The time needed to recover varies based on a number of factors, but hearing loss that remains after 30 days is considered a permanent hearing loss. With repeated instances of temporary noise-induced hearing loss, especially if your ears are already vulnerable, the recovery can be incomplete, leading to a permanent hearing loss.
How loud is too loud?
To understand how loud is too loud, it helps to know the concept of "duration-level trade off."
Hearing damage is a factor of how loud the sound is and how long one is exposed. The louder the noise, the less time we can safely spend exposed to it unprotected. The longer the exposure, the softer the volume level we can safely tolerate.
Occupational health research finds that for the average person, an exposure of 85dB is safe up to 8 hours. This "safe zone" is an estimate—some people are more vulnerable depending on their genetics. For some, exposure to less than this limit can still cause hearing loss. For this reason, it's recommended that people take "noise breaks" during their lunch or other scheduled time off to get away from noise exposure.
In scientific terms, the equal energy hypothesis states that noises of equal energy will cause the same amount of hearing loss. A doubling of noise energy (+3dB) will mean our exposure limit time will be halved. This only holds true for continuous noise and does not apply to impulse noise. Even a brief surge of very high intensity noise can cause permanent hearing loss.
Workplace limits for noise levels in Canada
In Canada, each province regulates its maximum allowed workplace impulse and continuous noise exposure levels for occupational health and safety. These criterion levels are based on a maximum permitted exposure time of 8 hours and assumes the individual is in quiet the remaining 16 hours. This exposure allowance changes if the individual has noisy hobbies.
Downloadable apps for your smartphone can be used to give you an estimate of the level of noise in your current environment. Many Apple devices have built-in hearing monitors using the Health app. A good rule of thumb: Typically, if someone has to raise their voice to be heard by someone else at one arm's length away, hearing protection should be used.
Noise protection and NIHL prevention
Does noise-induced hearing loss get worse over time?
Yes, it can, especially if you don't protect your hearing. Once you have been diagnosed with hearing loss, you should have your hearing checked regularly. To protect the hearing you have left, known as residual hearing, it's important to practice important hearing loss prevention techniques. First and foremost, hearing protection anytime your exposed to loud sounds.
Noise protection is available in multiple styles, such as ear plugs (worn in the canal) or ear muffs (over the canal) — or both! The best type of hearing protection is the kind that gives you the noise reduction needed and allows you to wear them consistently throughout the work day. Each workplace will have different communication and noise reduction requirements.
Custom-tailored ear plugs can provide you with noise protection by blocking out some of the harmful sounds, while still allowing you to hear conversation relatively well. Speak with your hearing care professional to narrow down the type of hearing protection best suited for you and to get additional tips on how to conserve your hearing.
Get help near you
Noise in the workplace is a serious hazard and affects many Canadians every year. Hearing tests, noise protection and hearing conservation strategies are key to reducing noise-induced hearing loss. For those already living with hearing loss, hearing aids are valuable tools that can help one reconnect with their social and physical world.
To find a local hearing care professional, search our Find a Clinic section to schedule an appointment with a hearing clinic in your area.