www.HearingDirectory.ca
New hearing aid technology
Modern hearing aids are increasingly sophisticated, with the latest models offering artificial intelligence and smartphone streaming for a crisp, convenient listening experience.
Hearing aid technology is rapidly improving. The hearing aids that you would have purchased even five years ago can't compare to the new ones on the market today. The latest hearing aid technology come with a variety of new technologies and more customizable settings than those of the past.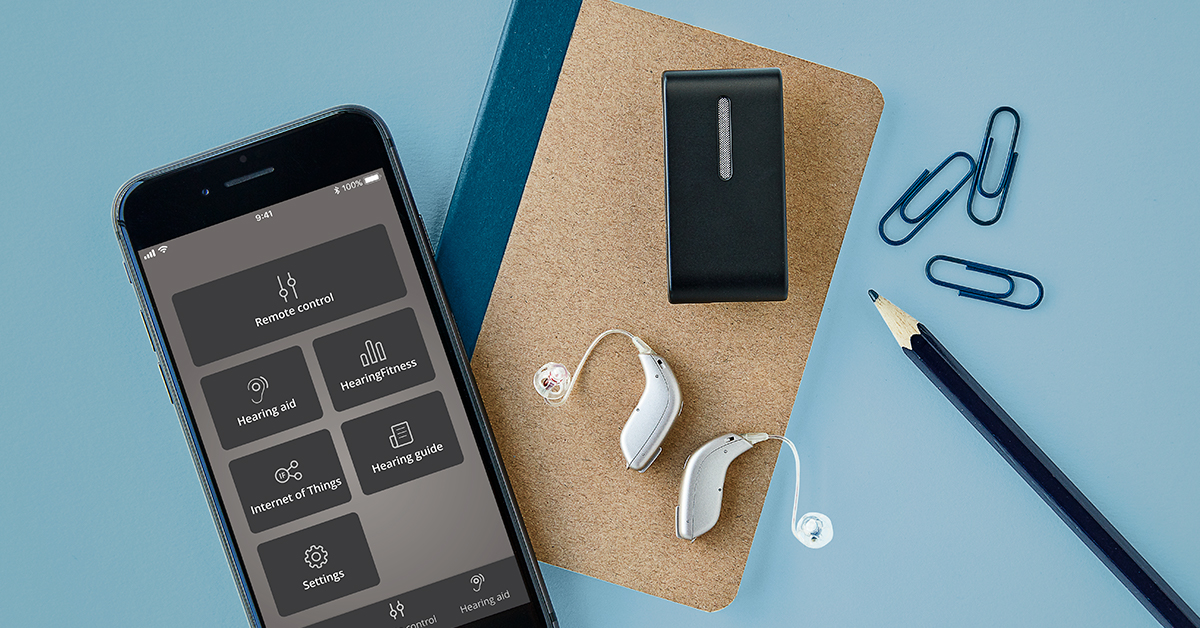 It can be challenging to navigate all of the features and determine which will be best for you, so this article is intended to guide you along your journey so you feel prepared and informed when it is time to compare options and decide what is right for you with your hearing healthcare professional.
What is a hearing aid?
A hearing aid is a tiny device that houses an entire sound processing system. It is composed of:
A microphone that will hear the sounds happening around you
A power source, which will be either a standard battery or a rechargeable battery
A receiver, also known as the speaker, which will produce the amplified sound, and
An amplifier, a highly customizable chip that houses the technology found in the hearing aid
What does the amplifier do?
The amplifier is essentially a very tiny programmable computer chip that takes the sound information from the microphone, adds amplification, processes the sound to eliminate background noise, and sends it to the receiver. When deciding on the hearing aid technology, you are essentially deciding whether you want a basic or advanced chip, as the amplifier is what determines the different features that can be in your hearing aid.
Basic or advanced, or even premium?
The most important factor, after you determine the style you want, is whether you should get premium, advanced, or basic level hearing aids. The technology level determines the features you get. When deciding which level of technology you should purchase, you want to factor in the features you will need, balanced against your budget, as the price of premium level hearing aids are going to be higher than advanced or basic.
Keep in mind, all hearing aids are going to be an improvement over no hearing aids, and will vastly improve your communication with others. If a basic model is what is in your budget, don't worry: You will still notice a significant improvement.
However, basic hearing aids are going to have some limitations, particularly when in crowds and group conversations.
Below we will discuss the different features that come in modern hearing aids, so you can decide with your hearing professional which technology level is right for you.
Rechargeable
Rechargeable hearing aids have been one of the most exciting advancements in technology. Available on all technology levels (however, not necessarily on all styles), rechargeable hearing aids eliminate the need for standard hearing aid batteries. You will no longer need to handle the very small batteries, and instead place your hearing aids in a provided charger overnight while you sleep.
Bluetooth technology and hearing aid apps
Hearing aids in all technology levels come equipped with Bluetooth technology. Bluetooth technology has made using assistive listening devices easier, and allowed smartphone users to connect directly to their hearing aids, allowing you to take calls or stream music. Also, most manufactures provide accompanying apps that allow you to adjust the settings directly through your phone, as well as come with a "hearing aid tracker" if you've misplaced your hearing aids.
Fitness trackers and fall detection
Some modern premium hearing aids, such as Starkey's evolvAI or Phonak's Audéo Fit, include fitness trackers and fall detection. These devices are equipped with a heart sensor or a gyroscope that pairs to an app on your phone. These can be set up to directly monitor your health statistics, and even alert a family member if a fall is detected, which can help keep you safe.
Feedback management
If you have an older hearing aid, you may be very familiar with the screeching sound of feedback. This happens when the receiver falls out of the ear canal and is too close to the microphone. Modern hearing aids, in all technology levels, are equipped with a feedback canceller, reducing any feedback and eliminating the embarrassing moments when you give a loved one a hug and your hearing aid squeals in their ear.
Keep in mind, however, premium level hearing aids may have a more advanced feedback canceller, which can be more effective for those with persistent feedback.
Tinnitus masking
Tinnitus is a condition in which a person will hear a ring or buzz in their ear when no outside sound is present. Tinnitus can range from mild to very severe. Often, the treatment of hearing loss with hearing aids in general can be helpful in tinnitus management, but sometimes you might need additional features to provide some relief.
Hearing aids in all technology levels will often have a feature called "tinnitus masking." This means the hearing aids create a sound to disguise, or mask, the sound of the tinnitus, providing you with relief. This sound is customizable to your needs.
Background noise processing
The number one complaint that most people have with their hearing aids is that they continue to have difficulty hearing when in background noise. This is also where you will find the greatest variability between basic, advanced, and premium technology levels.
You've probably heard many friends or family comment that their hearing aids are great, but they still struggle when in places like restaurants and crowds. The good news is that modern technology has made big advancements toward helping those with hearing loss hear when in background noise. To reduce this, hearing devices of all technology levels will use:
Directional microphones, meaning there are two microphones—one toward the front of the hearing aid, and one toward the back. This allows the device to amplify sounds from in front of you while suppressing sounds from behind. For a long time, this has been the most effective way to reduce background noise.
Digital noise reduction. Speech and noise can look very different from each other to the amplifier, so the amplifier can suppress the noise, while amplifying the speech. Basic level hearing aids will do a very small amount of noise suppression, while premium level will not only do more noise suppression, but are also more effective at determining what is speech and what is noise
Impulse noise reduction, for when the hearing aid detects a sudden, loud sound like a glass shattering or a sudden shout near your ear. Advanced and premium level will have a significant amount of impulse noise reduction, while basic levels usually have a small amount of impulse noise reduction.
Wind noise reduction, which suppresses the sound of wind against hearing aid microphones. If you are someone who spends a lot of time outside, perhaps golfing or hiking, a hearing aid with wind noise reduction is a must. Premium level devices are going to have more wind noise reduction than basic level ones.
Sound localization
Binaural processing, also called ear-to-ear communication, is a premium technology that has significantly improved background noise hearing for those with hearing aids.
When listening to sound, our brain will know that a sound came from a particular location because it will reach one ear slightly faster, and slightly louder, than it reaches the other. This is known as sound localization.
This difference in timing and volume is so tiny you could never notice it even if you paid attention, but modern hearing aids have been designed to notice these sound differences between your two hearing aids, and make sure that this is preserved when adding the amplification. This gives your brain the cues it needs to know where a sound is coming from, particularly important when in a group conversation.
Artificial intelligence
Premium hearing aid technology today sometimes comes with artificial intelligence (AI). This AI has been trained with millions of different sounds so it can learn what sounds you do want to hear, like your grandchild's voice, and ignore sounds you don't want to hear, like the clatter of conversation at the other side of the coffee shop.
Separating out the sounds you don't want to hear and the sounds you do present a big challenge for your brain. That is where artificial intelligence, like Oticon's Deep Neural Network and Widex's Moment really shine. The AI was designed using millions of different sound samples, so the hearing aid can learn what different sounds are, separate them, and send them to your brain in a clear signal.
Special cases
Technology differs for people with severe to profound hearing loss, or children. For people with severe hearing loss, hearing aids come in "power" or "superpower" levels of technology to provide added amplification. Pediatric hearing aids are meant to be more durable and tamper-resistant to withstand typical children's activities. The features may look different or appear in different technology levels based on the design of the hearing device, but with your hearing healthcare professional, the right solution can be provided to you or your child.
Ready to get help?
Modern hearing aids have made significant improvements over those of the past. More than ever before, hearing aids can be customized to your individual lifestyle to ensure you can be fully present in every activity you do, even if your lifestyle includes the TV, religious services, family gatherings, or outdoor activities.
To get started on the path to healthier hearing, find a hearing healthcare professional near you, and together you can find a hearing solution that best suits your needs.