Hearing clinics in British Columbia
We found 103 hearing aid centres located in or near 66 cities in British Columbia, including 3 mobile clinics. Please use the quick links to search for clinics in your province.
Resources in British Columbia
Hearing aid coverage in British Columbia
WorkBC Assistive Technology Services

WorkBC Assistive Technologies Services are available to individuals who have a work-related barrier due to a disability or a functional limitation. This may include barriers related to travelling to and from the workplace. Supports include communication and hearing devices.
To qualify, you must
Be a resident of BC
Be at least 16 years old
Be legally able to work in BC
Need hearing aids to get or retain employment
To access this coverage online, create an account through WorkBC.
Additional hearing care resources in British Columbia
Supports and services for people with disabilities: Government of British Columbia provided resources to assist people with qualifying disabilities for financial need, assistive devices, interpreting services and more.
WorkSafeBC: assists British Columbia workers with occupational health and safety information for hearing health at work including wage-loss benefits, medical coverage and support for work-related injury or illness.
Be sure to check out these great articles as well:
Mobile hearing clinics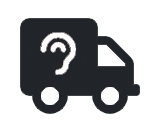 Mobile hearing clinics offer a wide variety of hearing healthcare services by audiologists and hearing aid specialists. These clinicians travel to your home or to a convenient site in your area, such as a senior centre.
161 Trunk Road Duncan, BC V9L 2P1
2533 West Broadway Vancouver, BC V6K 2E9
2320 Clarke Street Port Moody, BC V3H 1Y8
Cities in British Columbia
Select a city below for a listing of hearing centres that offer in-person care provided by an audiologist or hearing aid specialist.
1

A

B

C

D

E

F

G

K
L

M

N

O

P

Q
R

S

T

V

W