Hearing clinics in British Columbia
We found 98 hearing aid centres located in or near 47 cities in British Columbia, including 1 mobile clinic. Please use the quick links to search for clinics in your province.
Resources in British Columbia
Are you looking for hearing care resources in British Columbia? Here's what we found:
WorkBC Assistive Technology Services: provides British Columbia residents access to equipment and devices to help them in the workplace including hearing devices, assistive devices and ASL interpreting and captioning services.
WorkSafeBC: assists British Columbia workers with occupational health and safety information for hearing health at work including wage-loss benefits, medical coverage and support for work-related injury or illness.
Supports and services for people with disabilities: Government of British Columbia provided resources to assist people with disabilities for financial need, assistive devices, interpreting services and other.
Be sure to check out these great articles as well:
Mobile hearing clinics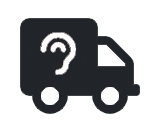 Mobile hearing clinics offer a wide variety of hearing healthcare services by audiologists and hearing aid specialists. These clinicians travel to your home or to a convenient site in your area, such as a senior centre.
Cities in British Columbia
Select a city below for a listing of hearing centres that offer in-person care provided by an audiologist or hearing aid specialist.
Tell us about your experience
If you visit one of the hearing clinics on our site, we encourage you to come back to our site and submit a review of your experience!