Hearing clinics in British Columbia
We found 99 hearing aid centres located in or near 46 cities in British Columbia, including 1 mobile clinic. Please use the quick links to search for clinics in your province.
Resources in British Columbia
Hearing aid coverage in British Columbia
Hearing aids are generally not covered in B.C., although there are some exceptions. For example, the government of British Columbia offers a benefit to job seekers who require hearing aids to keep their jobs.
WorkBC Assistive Technology Services

WorkBC Assistive Technologies Services offers funding for hearing aids and other assistive technologies if hearing loss is a work-related barrier for you. You should consider all other resources before you apply for this benefit.
WorkBC can provide coverage for up to $2000 per hearing aid and a one-time replacement coverage of $300 per hearing aid. WorkBC also provides co-funding with other resources if needed.
To qualify, you must
Be a resident of BC
Be at least 16 years old
Be legally able to work in BC
Need hearing aids to get or retain employment
This assistance is also available to those who are already in these groups:
Those eligible for General Health Supplements
A hard of hearing parent of a dependent child
Children under 19 in families eligible for the Medical Services Plan (MSP) supplementary benefits
Those in ministry-approved training who require hearing aids to retain employment
Those registered with the Canadian National Institute for the Blind (CNIB) and are hard of hearing
Those with hearing loss who are the sole home support for an adult with cognitive impairment
To access this coverage, you will need to create an account with WorkBC.
Additional hearing care resources in British Columbia
Supports and services for people with disabilities: Government of British Columbia provided resources to assist people with qualifying disabilities for financial need, assistive devices, interpreting services and more.
WorkSafeBC: assists British Columbia workers with occupational health and safety information for hearing health at work including wage-loss benefits, medical coverage and support for work-related injury or illness.
Be sure to check out these great articles as well:
Mobile hearing clinics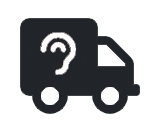 Mobile hearing clinics offer a wide variety of hearing healthcare services by audiologists and hearing aid specialists. These clinicians travel to your home or to a convenient site in your area, such as a senior centre.
Cities in British Columbia
Select a city below for a listing of hearing centres that offer in-person care provided by an audiologist or hearing aid specialist.