100 Mile House Hearing Clinic
165 Cedar Avenue 100 Mile House, BC V0K 2E0
Staff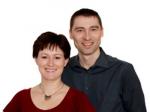 Tom Slosarek
Certified Hearing Instrument Practitioner
Tom Slosarek is highly-skilled in electronics and sound engineering to complement his friendly, easy-going personality.
Tom's expertise is virtually unparalleled in fine-tuning your devices and giving you the best performance possible. Seeing the improvement in the quality of life of each of his clients, makes every second in Tom's practice worthwhile.
Eva Slosarkova
Office Administrator
Eva Slosarkova was a former nurse in Czech Republic before moving to Canada with Tomas in 2005 and is the "glue" that holds 100 Mile House Hearing Clinic together. She is likely to be the first voice you will hear on the phone and the first smiling face you will see when you enter our clinic.
Eva is truly passionate about 100 Mile House and the services they provide. She feels the relationships and the people she meets is what it is all about - that sense of community at 100 Mile House has only grown stronger over the years.
Reviews
Hearing Directory posts all positive and negative reviews that meet publishing criteria.
Read 2 verified patient reviews for 100 Mile House Hearing Clinic! Their average review score is 5 () from 2 reviews.
Write a review Sort by:
"GREAT people great service, folks I would like to call Friends. Service above excellent, fully recommend this clinic, and it's fine staff."
"We are so impressed with the service which was above and beyond. My husband already had hearing aids but would never wear them, we now understand why. We recently moved and decided to try and see if he could get his hearing aids set up better. We checked for Hearing Centres close to us and called 100 Mile House Hearing Center for an appointment. Eva was so helpful with how to get his records transferred and set up an appointment. She was extremely welcoming when we arrived at the Hearing Center as was Tom. Tom took the time to talk to us about his hearing and hearing aid issues, he explained everything so well as to how things work and what was happening, he did hearing tests, as it had been a couple of years since his last but also because Tom is very thorough. He then set up his hearing aids, refit them properly and put on larger buds that better fit his ears. He also set up his cell phone to work with his hearing aids and taught him how to use it. The results were fantastic, the time Tom spent with us to ensure everything was just perfect and that we had a good understanding of how hearing and hear aids work is going to make a huge improvement on not only my husband's life but mine (those of you who live with someone with a hearing impairment know exactly what I am talking about lol). "
A message from 100 Mile House Hearing Clinic:
We have put new practices in place for in-clinic visits! Spaced scheduling, sanitation between visits, protective gear, frequent hand-washing and health monitoring are just many of the steps we are taking.
Be honest with yourself, and be honest with the people around you.
At 100 Mile House Hearing Clinic, our mission is to help you not only hear better but also to listen and communicate better. Let us be your hearing resource. Feel free to give us a call.
Don't worry, we are not going to try to sell you anything or convince you that you need hearing aids. We are simply here to answer your questions and give you the helpful information you require – what you do from there is up to you.
If you have questions or concerns about your hearing, give us a call today and speak to our friendly hearing staff. We look forward to hearing from you.
Hearing assessments
Customized hearing aid section and fitting
Listening and Communication Enhancement Therapy (LACE)
Personalized on-going hearing care
Amenities

Convenient parking

Curbside service

Wheelchair-accessible

Service pets welcome

Assistive listening devices
| | |
| --- | --- |
| Sunday | Closed |
| Monday | 9 am - 4:30 pm |
| Tuesday | 9 am - 4:30 pm |
| Wednesday | 9 am - 4:30 pm |
| Thursday | 9 am - 4:30 pm |
| Friday | Closed |
| Saturday | Closed |
Amenities

Convenient parking

Curbside service

Wheelchair-accessible

Service pets welcome

Assistive listening devices
Accepted forms of payment
Visa
MasterCard
Cash
Cheque
Debit
Insurance accepted, please call for details
Disclaimer: This clinic profile is for general information purposes only.